The Count Down Begins: Since June of 2005 the restoration of the F-100D Super Sabre has been underway.  It has been an act of love by a pilot that actually flew her, Ken Ramsay.  On June 17, 18 & 19, Fathers Day weekend, Ken plans on pulling the aircraft out of the hanger for the first time since the restoration began.  The F-100 fuselage will be reattached to her wings and the next stage of the restoration will being.  The aircraft will be painted in three color "camouflage."  Click HERE to see more pictures of the F-100D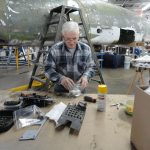 Ken is pictured working on the F-100D cockpit instruments.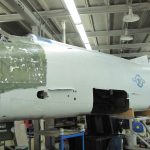 Ken has begun to prime the aircraft in preparation for the final paint job.