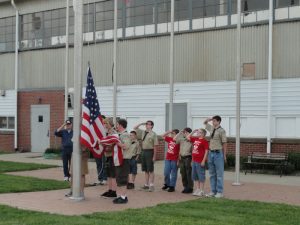 MAPS Air Museum conducts two BSA Camp Outs per year. The Aviation Merit Badge is taught at each camp out along with a program of WWII/Vietnam Speakers and a movie in the hanger. Click on the picture to go to the MAPS/BSA page.
Click the following link to download more information and the registration form for
Spring 2017 – BSA Campout Cancelled due to scheduling conflicts.

Fall 2017 – BSA Campout September 15, 16, & 17, 2017.
MAPS Air Museum is conducting numerous Cub Scout Days. These days are tailored specifically for Cub Scouts. There are three starting times for the tours; 9:00, 11:00 and 1:00. They are held on Saturdays and reservations are required to distribute the visitors and insure that we have enough tour guides available.