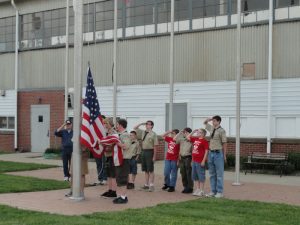 MAPS Air Museum conducts two BSA Camp Outs per year. The Aviation Merit Badge is taught at each camp out along with a program of WWII/Vietnam Speakers and a movie in the hanger. Click on the picture to go to the MAPS/BSA page.
Click the following link to download more information and the registration form for
Spring 2017 – BSA Campout Cancelled due to scheduling conflicts.

Fall 2017 – BSA Campout September 15, 16, & 17, 2017.
MAPS Air Museum is conducting numerous Cub Scout Days. These days are tailored specifically for Cub Scouts. There are three starting times for the tours; 9:00, 11:00 and 1:00. They are held on Saturdays and reservations are required to distribute the visitors and insure that we have enough tour guides available. Click the following to go to the brochure for Fall 2017 Cub Scout and Girl Scout Day – October 7, 2017