The Ohio Military Museum that was located in Massillon Ohio has become part of MAPS Air Museum. The displays are being put together and are waiting the completion of the renovation. We experienced several delays in the renovation process, mostly related to teh difficult installation of the elevator. Once the elevator was approved and the students from the Portage Lake Career Center (PLCC) were available, the progress began to speed up. We are very pleased with the progress in recent weeks and believe that we should be ready for the assembly of cabinets by mid February. Please follow our website or facebook link for updates.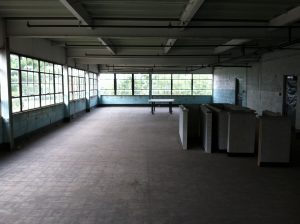 8/28/15 The OMM Room prior to renovation.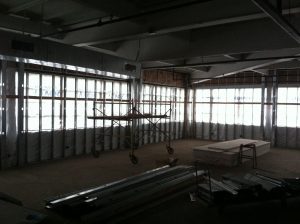 8/29/16 PLCC Students installed all the medal studs. Wait on elevator.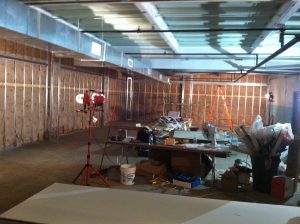 12/13/16 PLCC also installed the insulation.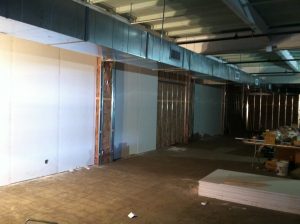 12/14/16 PLCC put up the drywall and C.R. Kurtz installed the heating system.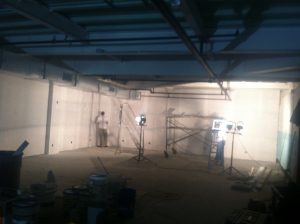 1/24/17 Drywall is complete, being taped, plastered and sanded.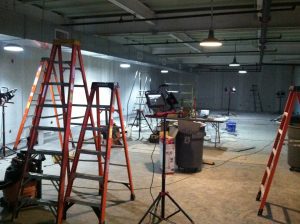 2/3/17 Service lights have been installed plus finish plaster & sand.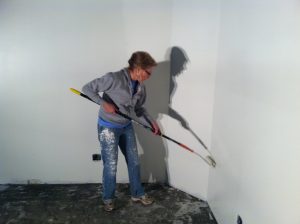 3/11/17 Final Coat of paint is rolled.
3/17/17 Received approval from the County Inspectors.
Good to Go? – Thanks everyone for your hard work.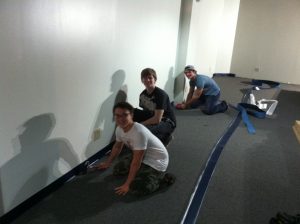 3/22/17 PLCC Students putting on the tile between the wall and carpet.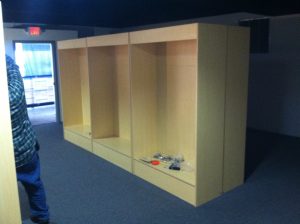 Cabinets are being built.
Next will be build the cabinets, install the lights and load the displays.