Fathers Day Weekend, Ken Ramsay.  Super Sabre Pilot, MAPS Crew Chief and Director will lead a crew to bring the F-100 out of the restoration building for the first time since restoration began in 2005.  They will attach her wings, drop the gear and install the tires.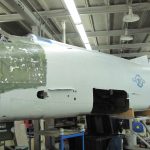 I flew the F-100 from Jan 1962 thru Sep 1968 then again Spring 1970 thru Summer 1971.  In between I flew the A-37. Captain, Senior Pilot, Instructor Pilot, Quality Control Test Pilot.
Jan-Oct 1962 Fighter training at Luke AFB, Phoenix AZ and Nellis AFB, Las Vegas NV.
Oct 1962-Jun 1965, 614 TFS (Tactical Fighter Squadron), England AFB, Alexandria LA. Flew all over the US for training, fire power exercises, air shows, memorial ceremonies, etc.
Fall 1962 sat armed alert for 3 months at Homestead AFB FL during the Cuba crisis.
Jul 1963-Dec 1963, cold war nuclear alert duty at Cigli AB, Ismir, Turkey,
Jul 1964-Dec 1964, Armed reconnaissance escort in Vietnam during the Tonkin Gulf crisis.
June 1965-Sep 1968, 493 TFS, Lakenheath AB, England Ismir, Turkey, again, for nuclear alert duty, Wheelus AB, Libya gunnery practice and qualifications, Aviano AB, Italy for nuclear alert duty, Bodo, Norway for NATO exercise, Flew over most of Europe for training.
Sep 1968-Dec 1969, A-37 Instructor pilot, England AFB, LA
Mar 1970-Jun 1971, F-100, Ohio Air National Guard, Springfield OH.
MAPS was looking for additional aircraft in 2003.  The Air Force Museum said we could have a B-47 that was at the AF Museum.  We didn't have the building to cover it (AFM requirement) or the funds for transportation.  They said that there were a bunch for fighters down in central Florida that we could have.  In Nov 2004 a MAPS team went to Florida and brought back the F-100, F-101, F-102 and F-105 using flat bed trucks.  Subsequent trips to Florida brought back additional components for these aircraft (wings, empennage, etc,) and additional aircraft (F-86D, T-37).
In June 2005 we moved the F-100 into the restoration hanger to begin restoring it for museum display.  I've worked an average of 12-15 hours per week on the F-100 restoration.
Ken Ramsay, Pilot, MAPS Director and Crew Chief on F-100D