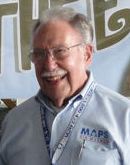 Ralph Lynn and Kim Kovesci make the OWRC-MOAA Briefing Board.  They were involved with a monthly meeting of the organization which was held at the 356th Fighter Group in January.  Ralph talked about "Man's Love of Flight" and Kim talked about his favorite subject, "MAPS." 
Click HERE to download a copy of the Briefing.
We want to thank MG Dan Hahn and Col Dick Calta for giving us the opportunity to speak to their members.