Click this picture to see more from the event. (thanks to Mitch Crawford) Thank you for the invitation to KSU and thanks to all our wonderful volunteers who made the trip to Kent. Pictured below are the two Key-note Speakers, P-51 WWII Pilot Bob Withee and B-24 WWII Pilot Ralph Lynn.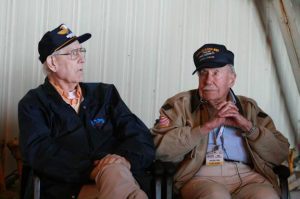 Members from MAPS Air Museum will attend the Kent State Aviation Heritage Fair held at the KSU Airport on Saturday September 14, 2013 from 7:00 to 5:00.
Two of our WWII Pilots will give talks during the event, Ralph Lynn (B-24) and Bob Withee (P-40 & P-51).