Tonight was a very important Membership Meeting for the future of MAPS.
The Directors announced that they are seeking applications for the position of Executive Director.  If you are interested click on the link above titled Job Opportunities and follow the links.  Please do not mail any information to MAPS.
For the third year in a row, Mary Anne Cameron received the High Award of Best Chili.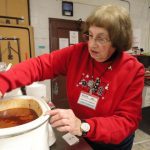 The cash raffle was held at the end of the meeting.  Congratulations to all the winners.  They will be included in the minutes of the meeting.