The Commemorative Air Force Red Tail Squadron will fly their P-51C Mustang to MAPS on the morning of September 17.  This is a change from the previous plan, sorry. It will remain at MAPS until September 18.  The aircraft will be displayed in the hanger during normal Museum Tours.  They will sell rides on the P-51C on Friday afternoon, Saturday and Sunday, Sept 17 & 18.  For more information call MAPS or CAF at 888-928-0188.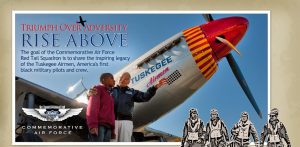 In addition to the P-51C Red Tail Mustang, CAF will be bringing their Rise Above Traveling Exhibit to teach six guiding principles of the Tuskegee Airmen:
AIM HIGH – BELIEVE IN YOURSELF – NEVER QUIT – BE READY TO GO – USE YOUR BRAIN – EXPECT TO WIN
Click the trailer to see pictures of the event.