Wow – Jim Boyea spent several weeks sanding and painting the Gull Gray Base Color on the doors. The new coat of paint really made the building start to come alive and now the letters have turned a lot of heads. Reed Kimball demonstrated his engineering skills when he took a break from his scheduling and education duties to create a set of drawings then paint the M A P S Letters on the doors on the new maintenance building.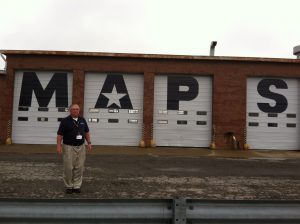 Now when you come up the hill to the museum you cannot miss the new M A P S on the doors of the building. Thank you Reed for painting on your day off and Jim for all your great work to get the doors ready for their new letters. Great Job to both of you!
This is only what you can see that is going on. On the inside of the building we have a bunch of guys leaded by Jim Shoop and Jim Jackson who have worked like men possessed to cleanup the interior. I cannot believe that they have made so much progress is such a short time. Wonderfull job and please keep up the good work.