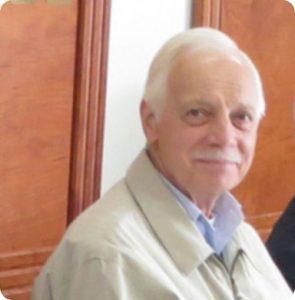 August 27, 1948 – June 16, 2014
Eric "Rick" Jones, age 65 of Green, passed away June 16, 2014. He was the loving husband for 35 years of Barb (nee: Kline), proud father of Nathan and Sara (Mark) Titus and dear brother of Alisa (John) Charles. He is also leaves behind many sisters and brothers-in law, nieces and nephews, and longtime friends. He was a proud graduate of Buchtel High School in 1966 and The University of Akron in 1970 with a degree in secondary education.
Rick absolutely loved to teach and was proud to say he was a teacher. He loved and nurtured the many kids he influenced over the years. "Mr. Jones" was a beloved educator in the Barberton School District for two years and then joined the Coventry Local School district for 34 years, retiring in 2006. He wanted to convey his passion for history and government and his love for his country to his junior high and high school students. Rick was very involved in teacher association activities at the local and state level and served as the Vice President of the Ohio Education Association from 1982-1986. He loved classic cars and was a proud owner who won numerous awards for his 1957 Thunderbird and his 1986 Mustang. After retirement, he really enjoyed serving as a tour guide at MAPS (Military Air Preservation Society) in North Canton in keeping with his interest in World War II and military aviation.Nothing gave him greater pleasure than coaching his children's baseball and softball teams and attending his children's many sporting events. He was a very proud father of his children's athletic and academic achievements. 
Rick was an avid Cleveland Brown and Ohio State Buckeye fan. It is his family's belief that he will personally engineer a Super Bowl win for the Browns someday from above. 
He was proud of his Albanian heritage and was an active member of the American Albanian's Men's Club. He was also passionate about rock and roll and firmly believed that the best music was produced in 1966. He enjoyed reading, working on his yard, keeping his cars spotlessly clean (Fords only), and family vacations at Hilton Head. 
He was preceded in death by his parents Edward and Faye.
Family will receive friends Friday, June 20, from 4-8 pm at the CATAVOLOS FUNERAL HOME 3653 West Market Street Fairlawn, where funeral services will be held Saturday at 10am. Interment will be at Rose Hill Burial Park.
In lieu of flowers, the family suggests donations be made in Rick's name to MAPS (Military Air Preservation Society) 2260 International Parkway, North Canton OH 44720.