This year the MAPS Air Museum will be holding a Veteran's Day Program to honor those who have fought, and continue to fight, for our country. This program is for veterans and their families and if you wish to attend please fill out the posted form and return it to the museum as soon as possible to ensure a place in the celebration. This is a limited event and we will accept as many people as we can until the event is filled. If you have any questions please feel free to contact the museum at 330.896.6332.
The dinner will be catered by the 356fth Fighter Group so the food will be outstanding and there will be a band that will play 60's and 70's music.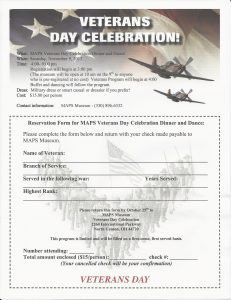 The above link will take you to the page you need to print out and return.