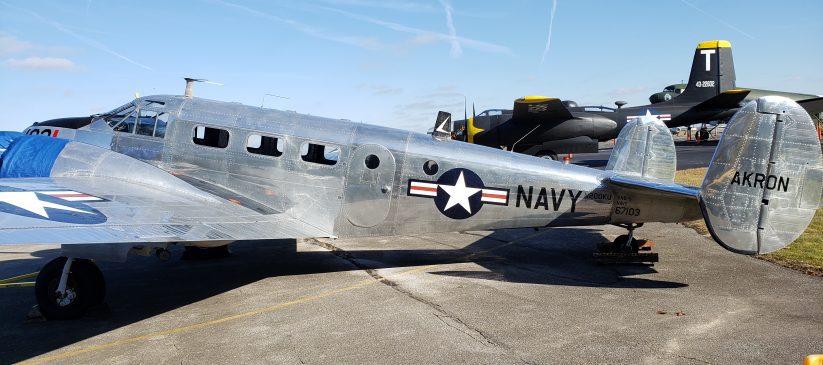 Our Aircraft's History
Beechcraft SNB-5 Expeditor (S/N 43-33316; MSN 5470; Bureau #67103) ~ Our Expeditor was a Beechcraft Aircraft production from Wichita, Kansas. Delivered to the US Army Air Force as a Beech AT-7 on October 26, 1943. The Army stationed the aircraft at the US Army Air Force Navigation School in San Marcos, Texas for 2 years before being transferred to the US Navy and re-designated a SNB-2. Rebuilt in 1949 to eventually become its present SNB-5 with the US Navy in August of 1951.
The SNB-5 spent time with the Marine Corps (February 1952) and US Army (August 1968), the University of Kansas as N200KU (August 1971) and finally with the MARC organization (September 1984).
The SNB-5 was flown to MAPS Air Museum in September 1990 on a loan from the Military Aircraft Restoration Corporation (MARC) of Chino, California. The aircraft is maintained by Crew Chief Chet Starn.
Specifications/Performance:
Crew: 2 pilots (capacity: 6 passengers)
Role: Trainer or Utility aircraft
Nation of Origin: United States
Manufacturer: Beechcraft Aviation Corporation
First Flight: January 15, 1937
Entered Service: March 1, 1937
Status in the United States Military: Retired June 14, 1976
Produced: 1927-1970
Number Built: 9000+
Unit Cost:$78,500 (1952)
Engine: 2 x Pratt & Whitney R-985-AN-1 "Wasp Junior" radial engines, 450 hp each
Length: 34 ft
Height: 9 ft 9 in
Empty Weight: 5,420 lb
Max Weight: 7,500 lb
Cruise Speed: 220 mph
Max Speed: 225 mph
Range: 1,200 mi at 160 mph/5,000 ft
Service Ceiling: 26,ooo ft
ARMAMENT, NOTABLE:
Designed to replace: Beechcraft SNB-2 "Navigator"
Intended replacement: Cessna T-37 "Tweet" (Air Force)