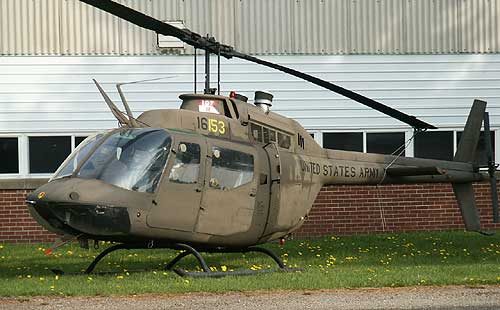 Aircraft Background
Awarded the contract in March 1968, the Bell manufactured light observation helicopter Similar to the civilian Bell 206A, the OH-58 features an increased diameter main rotor, and upgraded electrical system. Used in a forward observation / reconnaissance role, the OH-58 will frequently be paired with one of the Army's attach aircraft in "hunter/killer" teams. The OH-58 will locate and observe the enemy, while calling the attack helicopter in to prosecute the target.
Our Aircraft's History
MAPS OH-58A Kiowa was built in 1969 (S/N 69-16153). During 1991, our OH-58A served with the U.S. Army in the Gulf War. The Kiowa was donated to MAPS in September 1996 by the United States Army Aviation Systems Command. It last served with the 107th Air Cavalry of the Ohio National Guard stationed at the Akron-Canton Airport. It is currently on static display at the MAPS Air Museum.