Cessna T-37A "Tweet" (white)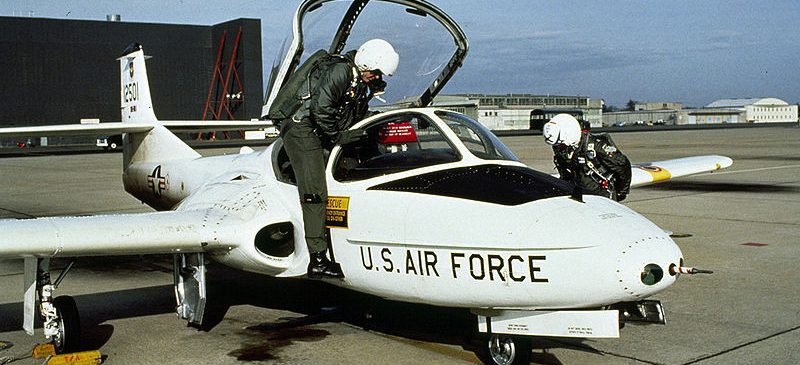 Aircraft Background
Formerly assigned to the Florida Military Aviation Museum at Clearwater-St. Petersburg Airport, when the museum closed the aircraft were removed from the facility and placed in outside storage. Officially a part of the U.S. Air Force Museum, Wright Patterson AFB collection, the T-37 has just been placed on indefinite loan to MAPS Air Museum for restoration purposes.
Aircraft Background
The T-37 is a twin-engine primary trainer used for training USAF student pilots in jet aircraft operation. Known as the "Tweety Bird" or "Tweet," it was the first USAF jet aircraft designed from conception as a trainer. Side-by-side seating in the T-37 made it easier for the instructor to observe and communicate with the student. From the relatively docile T-37, student pilots would transition to the larger, faster T-38 Talon.
The prototype first flew in October, 1954, and operational use of the T-37 started in 1957. In 1959 the T-37B, which featured uprated engines, an improved cockpit layout and better radio and navigation equipment, went operational with the Air Force. Eventually, all existing A models were also upgraded to B status.
The T-37C, with provisions for armament and extra fuel, was built for export. Both T-37Bs and Cs serve the air forces of several Allied nations. In all, nearly 1,300 T-37As, Bs and Cs were built before production ended in the late 1970s. In addition, nearly 600 A-37s attack modifications of the T-37 were built.