Our Aircraft's History
Ryan L-17B "Navion" (S/N 48-1075; MSN #NAV-4-1781) ~ Original design was by the North American Aviation Company, the design was purchased by Ryan Aeronautical Company in 1948 . The L-17B's (redesignated after 1962 to the U-18B) were duplicates of the civilian Ryan Navion A's.
This Navion was built by Ryan in San Diego, California in January of 1949. After being delivered to the National Guard Bureau in Washington, D.C. on February 18, 1949, she was first assigned to the 176th Infantry Regiment in the Virginia Army National Guard, Washington, D.C. in February, 1949.
January 1951 – US Army Field Forces, in the Far East Material Command
May 1953 – 6400th Maintenance Group-SHOWA, Kisarazu Air Base, Japan
June 1955 – Civil Air Patrol, Elmira, New York
January 1957 – Syracuse University ROTC (Air Academy), Elmira, New York
June 1958 – 255th ROTC Detachment, State University of Iowa, Iowa City, Iowa
November 1959 – Strategic Air Command (SAC) listed as flyable storage, Offutt AFB, Nebraska
June 1961 – Deregistered by US Air Force at Langley Air Force Base. Registered with tail number N4902E at the Langley Aero Club in Langley, Virginia
June 1970 – Listed as destroyed and sold for scrap
January 1993 – Retrieved from storage and went through a 5-year restoration program
In March of 1998, she was registered as N91173. The Navion is hangered at the MAPS Air Museum, where she is maintained by owner/Crew Chief Bruce Balough.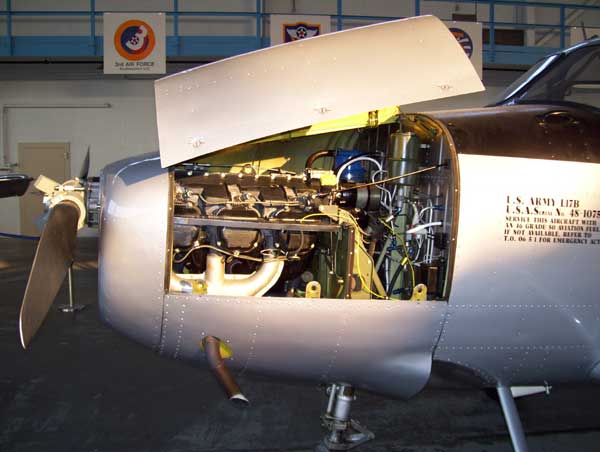 Specifications/Performance (Super 260 Navion/Ryan Navion B)
Role: Liaison, personnel/cargo carrier, trainer for university based ROTC
Manufacturer: Ryan Aeronautical
Produced: 1946-1949
Introduction: November 5, 1948
Built: 2,634 (all variants; approx. 163 L-17B's)
Crew: 1 (3 passengers)
Length: 27 ft 6 in
Wingspan: 33 ft 5 in
Height: 8 ft 8 in
Empty weight: 1,930 lb
Gross weight: 2,850 lb
Engine: 1 x Lycoming GO-435-C2 air-cooled flat-six engine, 260 hp (L-17B has the 205 hp Continental E-185-9 engine)
Max speed: 174 mph
Cruise speed: 170 mph
Range: 595 mi
Service ceiling: 18,000 ft
Armament, notable: none
Museum display notes: markings/painting are of the Washington National Guard
Designed to replace: Piper J-3 "Cub: & Aeronca Model 7 Champion "Airknocker"
Replaced by: Cessna O-1 "Bird Dog"