The Medic's Corner, located outside the hangar door, is Member-owned by Ted Mathies, who served during the Vietnam War. Ted has 3 volunteers and is always looking for more help from the medical community to maintain his tent.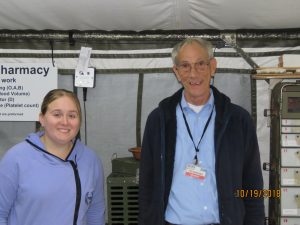 The Medic's Corner Exhibit is part of your entry fee into MAPS Air Museum, however, it is only open during warm weather, approximately early April (as soon as the weather breaks) to at least November 11th (Veteran's Day), so contact MAPS during these opening/closing time frames to see if the tent is open to the general public.
The Medic's Corner Exhibit (a mobile hospital tent display) – is seeking help in raising funds to replace the floor in the display hospital. The flooring is over 10 years old and made of vinyl mat. The goal is to replace the floor with military grade modular plastic flooring 1" thick. The flooring allows water to flow under and air drying under the floor to maintain a dry but washable surface. The Display Hospital Tent has over 30,000 visitors annually (though no additional cost for MAPS visitors as the tent is included in the price. Ted has 3 volunteers to help with the tent needs. The Funding goal for the replacement flooring is $4,500. Donation buckets for this endeavor are inside the tent or if you want to talk Mr. Mathies directly, you can reach him at 330-323-8377.