Tuesday – Saturday: 9 AM – 4:30 PM
Sunday: 11:30 AM – 4 PM
Closed Mondays
Holidays closed: Easter, Memorial Day, July 4th, Labor Day, Thanksgiving, Christmas & New Year's Day
NOTE: Due to scheduled events, the following date(s) have alterations to normal open hours:

Wednesday, November 17, 2021 will be closed to the general public for a private event.
Admission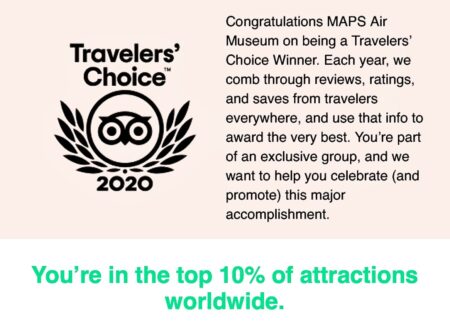 All Major Credit Cards Accepted
Masks are not required for entry
Adults: $10
Adult Veteran: $9
Seniors (60 and older): $9
Senior Veteran: $8
WWII Veteran: Free
Active Duty Military Personnel: Free
Child (Ages 6-12): $6
Child (Under 6) Free
Group Rates
For Pre-Scheduled groups of 16 or more
Adults: $9
Adult Veteran: $8
Children (Ages 6-12): $5
Child (Under 6): Free
How long should we plan for MAPS?
As with our guided tours, we recommend 2 hours minimum. However, to get the full experience of MAPS Air Museum, we recommend 3-4 hours to see all of the Exhibits and Aircraft up close and to read the detailed information. We do not have a café on premise, however, we do have snack, soft drink and water vending machines for your needs.
The Primary Display areas to see are the: Gallery of Heroes, Ohio Military Museum (2nd floor), The Timken Library & Research Center, Gift Shop, Main Hangar (displays mixed among the aircraft), outdoor tarmac (many aircraft) and the Medic's Corner Tent (outside access but has heat and A/C as needed)
Parking
On-site & Free!!
What should I wear?
Many of our aircraft are outside, so plan accordingly. The Gift Shop, Gallery of Heroes, Louise Timken Library & Research Center and the Ohio Military Museum room are temperature-controlled.
Wi-fi
MAPS Air Museum has free WiFi for the duration of your stay and reception for your standard cell phone service is normal.
Museum Tours
Self-Guided Tours available via the Apple App Store or Google Play. Pre-install the free UniGuide Audio Tours and Maps app from www.audiotour.me or via QR-code upon arrival. Further instructions upon arrival at MAPS!
Guided Tours/Bus Tours are FREE and available. We strongly recommend scheduling in advance to guarantee a tour guide is available for your estimated 2-hour guided tour. The tour can be modified to meet the needs of the audience and specific time limitations. We have ample parking and can accommodate buses or large RV's on the tarmac with pre-scheduling. To schedule a visit to MAPS Air Museum, please contact Reed Kimball at kimball.reed@mapsairmuseum.org
Accessibility
Wheelchair accessibility is available throughout the MAPS Air Museum, except for aircraft cockpits.
Gift Shop
MAPS Air Museum has the gift for anyone: young/old or girl/boy! T-shirts, sweaters, jackets, hats, models, coffee cups, toys, key-chains and many other trinkets! The Gift Shop is also where you pay for entry or meet your tour guide. Major Credit Cards are accepted.
Physical Address: 2260 International Pkwy, North Canton, OH 44720 ~ GPS Directions note: when using your phone GPS, the APPLE maps engine takes you to the opposite side of the airport. We do know that Google properly takes you to MAPS Air Museum.

[/vc_column_text][/vc_column]
[/vc_row]