Tuesday – Saturday: 9 AM – 4:30 PM
Sunday: 11:30 AM – 4 PM
Closed Mondays

Holidays closed: Easter, Memorial Day, July 4th, Labor Day, Thanksgiving, Christmas & New Year's Day
NOTE: MAPS AIR MUSEUM WILL BE CLOSED FOR PRIVATE EVENTS ON THE FOLLOWING DATES: TUESDAY, OCTOBER 3RD ALL DAY and THURSDAY, OCTOBER 12TH UNTIL 1PM.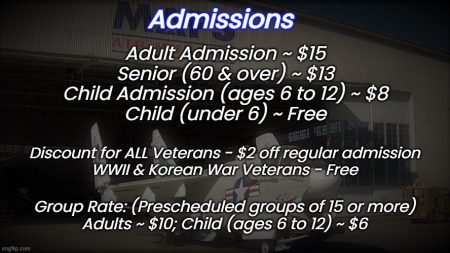 How long should we plan for MAPS?
As with our guided tours, we recommend 2 hours minimum. However, to get the full experience of MAPS Air Museum, we recommend 3-4 hours to see all of the Exhibits and Aircraft up close and to read the detailed information. We do not have a café on premise, however, we do have snack, soft drink and water vending machines for your needs.
The Primary Display areas to see are the: Gallery of Heroes, Ohio Military Museum (2nd floor), The Timken Library & Research Center, Gift Shop, Main Hangar (displays mixed among the aircraft), outdoor tarmac (many aircraft) and the Medic's Corner Tent (outside access but has heat and A/C as needed)
Parking
On-site & Free!! We have ample parking and can accommodate buses or large RV's with pre-scheduling.
What should I wear?
Many of our aircraft are outside, so plan accordingly. The Gift Shop, Gallery of Heroes, Louise Timken Library & Research Center and the Ohio Military Museum room are temperature-controlled.
Wi-fi
MAPS Air Museum has free WiFi for the duration of your stay and reception for your standard cell phone service is normal.
Museum Tours
How long is a guided tour? – Tours average 2 hours but can be modified to meet the needs of the audience or time limitations.
Self-Guided Tours – Located throughout the Museum, there are QR Codes that can be scanned with a smartphone to a YouTube video for additional information.
Guided Tours for small groups are FREE when a volunteer guide is available via first come-first served basis. We apologize, but small group tours can not be pre-scheduled.
Schedule tour groups of 15 or more. MAPS can also accommodate large groups 15 or more when prescheduled. Large group tours can be scheduled by contacting Reed Kimble by copying or click on this email link!
Accessibility
Wheelchair accessibility is available throughout the MAPS Air Museum, except for aircraft cockpits.
Gift Shop
MAPS Air Museum has the gift for anyone: young/old or girl/boy! T-shirts, sweaters, jackets, hats, models, coffee cups, toys, key-chains and many other trinkets! The Gift Shop is also where you pay for entry or meet your tour guide. Major Credit Cards are accepted.
Physical Address: 2260 International Pkwy, North Canton, OH 44720.