MAPS Air Museum Hall Rentals
Make MAPS Air Museum, with its unique aviation setting of aircraft and artifacts, be the location to make your next event an exceptional event.
Wedding receptions, business parties/meetings, car shows, birthdays, reunions or welcoming troops home – many different occasions have been held in our facilities!
When was the last time you have been to a wedding or business conference where you can ALSO look at historical artifacts and aircraft ?!
MAPS has the following facilities available for your event:
Hangar Floor: Capacity 500; surrounded by aviation artifacts with the hangar doors closed
Hangar Floor PLUS the outside tarmac: Capacity 2000+; in addition to the Hangar Floor, add the outside tarmac, with the view of Akron-Canton Regional Airport in the background. Large vehicle demonstration/display areas available with this option (rain or shine)
112th Fighter Squadron Banquet/Conference Center: 2nd floor banquet/conference center. Capacity is 273 (specific capacity depending on the needs of your event). 3-75″ TV's with computer connectivity and speakers throughout the hall. Wired or wireless microphones, WiFi and Bluetooth available. Panoramic view of the Akron-Canton Airport and MAPS Air Museum flight line. Booth or window seating and bar facilities available.
Mohawk Conference Room: Capacity 45; 2nd floor meeting/classroom/instruction room setting. Up-to-date meeting room amenities. Wireless and wired internet access, smart TV/projection screen and dry-erase boards available.
Full-Facility: Capacity w/ Hangar door closed 1200, with tarmac 2000+; access to all rooms: Banquet Hall, conference Room, Hangar Floor, etc.
Timken Library: Capacity 60; informal-library setting
Kitchen facilities/catering: full-sized commercial kitchen is available for your special event. Mr. Mikes Catering is the "Preferred Caterer of MAPS Air Museum" and they have a wide variety of options for your event. Outside caterers are allowed with pre-approval and an additional fee. Coffee/water stations available.
Mr. Mike's Catering: 2800 Fulton Dr NW, Canton, OH 44718 ~ 330-452-6825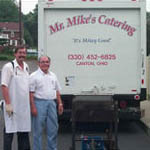 For information, please contact our event coordinator
Kent Kleinknecht: mapsevents@mapsairmuseum.org.