The MAPS Legacy Award was presented at the Green Freedom Fest on June 24, 2017. It is awarded to MAPS Members who:
had a distinguished military service or have supported our programs that honor our veterans.
have contributed to their community organizations
have lived their lives as role models for our young
and have significantly contributed to the success of MAPS Air Museum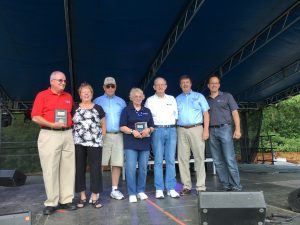 2017 Award Recipients
Bob and Pat Schwartz – Rick Hamlet – Mary Ann and Jim Cameron
Note: Kim Kovesci and Green Mayor Gerard Neugebauer were also in the picture.
Congratulations to all and thank you for your service to MAPS Air Museum.