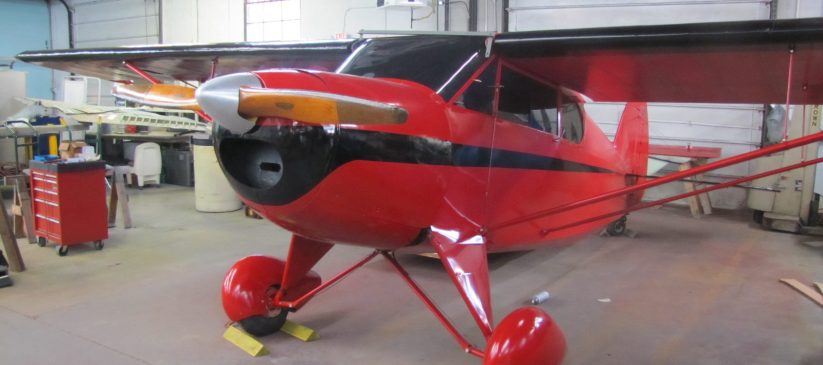 Our Aircraft's History
Akron Aircraft Funk "Model B" 75-L (S/N 205; C/S NC24179) ~ Original design by the Funk brothers (Howard and Joe) was started in 1933 with an engine developed from the Ford "B" motor-car engine, hence the name. Our Model B was made in 1940. The last production model was the Model B-85-C, which halted production in 1948.
Production of the Funk Model B originated in Akron with the Akron Aircraft Company in 1939. When the Akron Aircraft Company moved to Kansas in 1941, the name was changed to the Funk Aircraft Company.
The US Army Air Corp impressed 1 of these into WWII service, designated UC-92 (S/N 42-79548).
Below are photos of the aircraft through its recent renovations, to when is was completed in December of 2019. The completed Funk Model B is being transported to the Akron Canton Regional Airport (CAK) to be displayed in the rafters of the terminal (January, 2020).
Museum display note: painted red with the Civil Air Patrol markings and the tail number has a "NC", instead of the standard FAA "N", to reflect when it was made and how it was marked on aircraft prior to December 31, 1948. Also, the "C" meant, at the time, that the aircraft was a "commercial, airline or private" aircraft.
Specifications/Performance (Model B-85-C)
Role: 2-seat cabin monoplane
Manufacturer: Akron Aircraft Company/Funk Aircraft Company
First Flight: 1933
Number built: 380 (all variants)
Length: 20 ft 1 in
Wingspan: 35 ft
Height: 6 ft 1 in
Empty weight: 890 lb
Gross weight: 1,350 lb
Engine: 1 x Continental C85-12 four-cylinder air-cooled horizontally-opposed engine, 85 hp
Max speed: 115 mph at sea level
Cruise speed: 100 mph
Range: 350 mi (+30 min reserve)
Service Ceiling: 15,000 ft