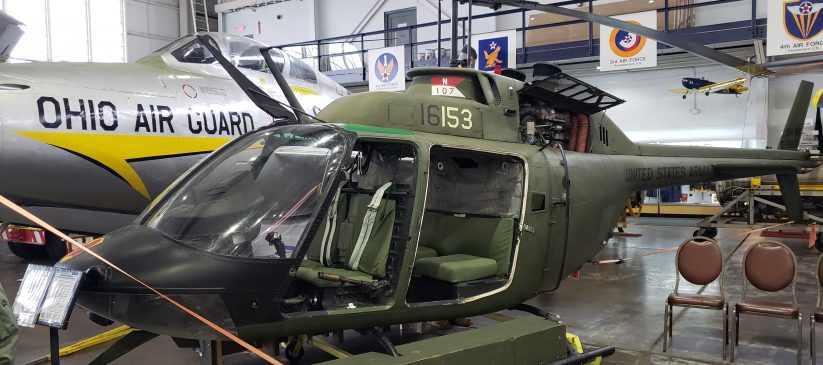 Bell OH-58A Kiowa (S/N 69-16153; MSN #40374) ~ This Bell helicopter was built in Fort Worth, Texas and delivered to the US Army on July 17, 1970 then integrated into the Headquarters and Headquarters Troop (HHT), 2nd Armored Cavalry Regiment (ACR).
Moving around, including serving in the Gulf War for the US Army, it settled in June 1995, when the helicopter was transferred to the local 4th Squadron, 107th ACR, Ohio Air National Guard, North Canton, Ohio. The next year, in September 1996, the US Army loaned the to MAPS Air Museum for static display and its markings are displayed as it was assigned the the 107th ACS.
This Kiowa was repainted in the summer of 2001, courtesy of Redhorse Aviation. Currently, Crew Chief Jim Boyea and his the crew maintain the Kiowa.
Specifications/Performance:
Crew: 1 or 2

Role: Observation and reconnaissance

Nation of Origin: United States

Manufacturer: Bell Helicopter

First Flight: January 10, 1966

Entered Service: May 1969

Status in the United States: In service

Produced:1966-1989

Number Built: 2,200

Unit Cost: $6.7 million (1990)

Engine: 1 x Allison T63-A-700 turboshaft, 317 shp
Rotor diameter: 35′ 4″
Length: 32′ 2″
Height: 9′ 7″
Weight: Empty/1,583 lb.; Max weight/3,000 lb.
Cruise Speed: 117 mph
Max Speed: 138 mph
Range: 299 mi.
Service Ceiling: 19,000 ft.
Armament, notable:
Guns: 6-barreled 7.62 mm M134 minigun or

M129 Grenade Launcher
Designed to replace: Bell H-13 "Sioux"
Intended replacement: Boeing AH-64 "Apache"