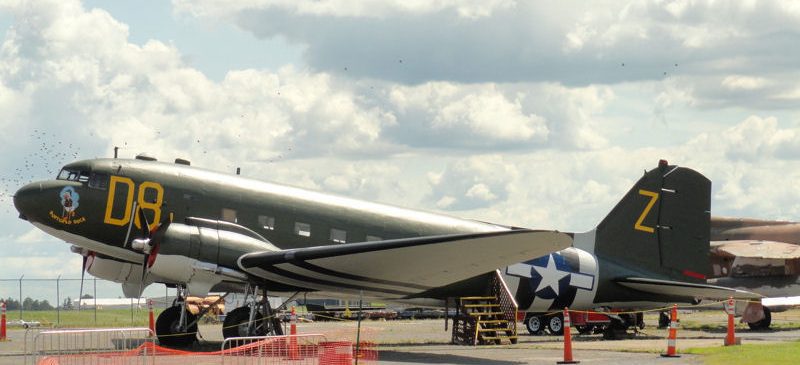 Our Aircraft's History
C-47D-45-DK Skytrain (S/N 45-928; MSN #16931/34189) ~ Our "Gooney Bird" was manufactured as a C-47B in July 1945 by the Douglas Aircraft Corporation in Oklahoma City, Oklahoma and delivered to the US Army Air Force on July 17, 1945.
This Skytrain changed hands numerous times, including, but not limited to the following: starting with the San Bernadino Air Material Center, Norton Army Air Field, California in July 1945; February 1946-555th AAF Base; October 1946-54th Reconnaissance (Long Range Weather) Squadron, where it was converted to a C-47D; dropped from the USAF inventory in October 1962 where it was picked up by the Moroccan Air Force.
After the Moroccan Air Force, the C-47D moved on to the private sector as it was purchased by Euroworld California, Inc. (later Vision Air International) in September 1978 and then acquired by the Military Aircraft Restoration Corporation (MARC) of Chino, California in May, 1984.
In September 1991, the aircraft moved to its present location at MAPS Air Museum for restoration, ending with D-Day colors under the name Ruptured Duck. Currently maintained by Crew Chief Ron Duplain.
At MAPS Air Museum, you can to go inside the Skytrain to look around the cockpit and transport area.
Performance & Specifications
Capacity: 28 Troops or 14 stretchers & 3 aids

Role: Military Transport

Nation of Origin: United States

Manufacturer: Douglas Aircraft Company

First Flight: December 23, 1941

Entered Service: March 1, 1942

Retired in the United States: October 20, 1967

Produced: 1941-1945

Number Built: 10,174

Unit Cost (U.S.): $138,000 (C-47D)

Engine: 2 x Pratt & Whitney R-1830-90C Twin Wasp 14 cylinder radial engines, 1,200 hp each

Span: 95 ft 6 in

Length: 62 ft 9 in

Height: 17 ft

Weight: Empty/Loaded 18,135 lb./26,000 lb

Cruise Speed: 160 mph

Max speed: 224 mph

Range: 1,600 mi

Service ceiling: 26,400 ft
Armament, notable: none