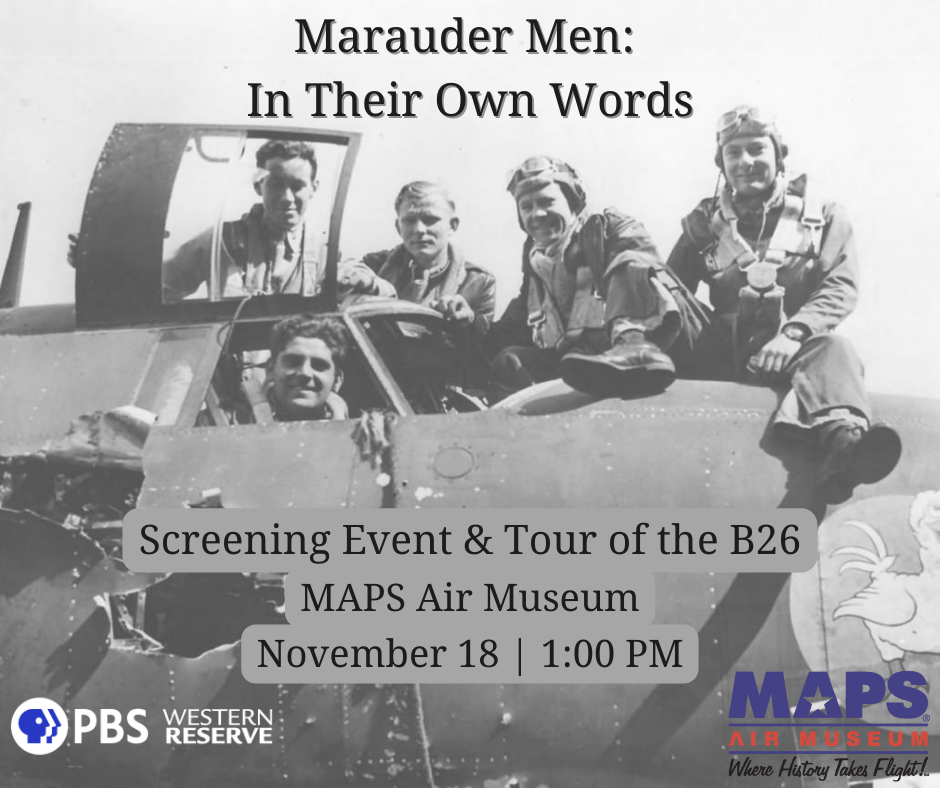 A new three-episode docuseries, Marauder Men: In Their Own Words, spotlighting the Martin B-26 Marauder and the brave World War II pilots who flew them will debut on PBS Western Reserve (WNEO 45.1 / WEAO 49.1) in November of this year. Below are the titles of the (3) 30-minute episodes:
Program #1: Forgotten Bomber of World War Two
Program #2: Aleutian Islands and the Pacific Theatre of Operations
Program #3: Mediterranean and European Theaters of Operation
Come to MAPS Air Museum for a screening of the first episode, "Forgotten Bomber of World War Two", a Q&A and also a short detailed tour of MAPS' own Charlys Jewel, a Martin B-26B Marauder!
PBS Western Reserve hosting the screening (30 minutes)
A restored B-26 that resides at the MAPS Air Museum in Canton, Ohio — and that is featured in the production — is one of the rarest military aircraft on display as there are only six in existence.
PBS and MAPS Air Museum are offering an early preview of the series' first episode, followed by a Q&A with the MAPS Air Museum Crew Chief of the B-26 and a tour of the aircraft. This event is free and open to the public. Registration is required. The event is expected to last approximately 90 minutes.