10th Annual Veterans Event
Many of us remember where we were on September 11, 2001. Kids who were babies at that time, grew up to serve in the same war. 20 years later, the United States ended its involvement in August of 2021.
MAPS Air Museum will have its Tenth Annual Veterans Event on November 12, 2022. We will not dedicate an aircraft this year, but will recognize all the men and women who have served our country during Post 9-11. We are very proud of all those who served!
In our museum, we have a display called "The Fallen Feathers". (See our website under Exhibits) The feathers are carved by Ohio woodcarvers, on native Ohio wood, for each Ohio man or woman who was killed during the Post 9-11. This display was created by Graham Webb. He carved the first feather and he has carved the last feather for Corpsman Max Soviak, the last Ohioan KIA. He will be one of our guest speakers.
We would like to create videos for the program, using pictures/video from those who served during the Post 9-11 locations. Pictures should include the veteran. Examples: with your military unit, with locals, at welcome homes, holidays overseas, etc. Please send no more than 5 pictures and include your name, rank, location, unit name, etc. This includes Gold Star families too. You can send via email (.jpg file) to kinney.valerie@mapsairmuseum.org., mail hard copies to MAPS Air Museum/ Attn: Valerie Kinney, 2260 International Parkway, North Canton, OH 44720, or drop them off at the MAPS gift shop. We will try to include as many photos as possible. Please make sure I have these no later than October 10, 2022.
Any questions, please contact Valerie Kinney at vskinney75@gmail.com.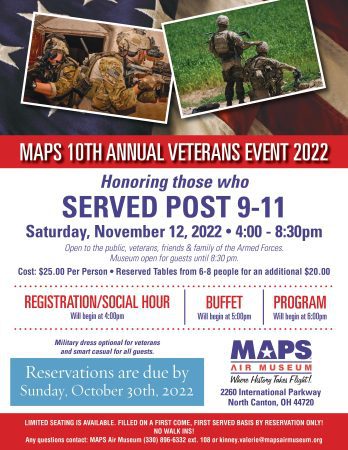 Reservation forms for the event can be picked up in the lobby at MAPS, request one via email or download a PDF HERE. The program is:
Saturday, November 12, 2022
Time: 4:00 PM – 8:30 PM
Registration/Social Hour will begin at 4:00 PM
Buffet will begin at 5:00 PM.
Program will begin at 6:00 PM.
Museum will remain open for guests until 8:30 PM.
Attire: Military dress optional for veterans and business casual for civilians.
We look forward to seeing you there to help us honor our Veterans!