Our Aircraft's History
General Dynamics F-16A "Fighting Falcon" Block 10D (S/N 8-0513; MSN 61-234) ~ Manufactured in the General Dynamics (now Lockheed Martin) facility in Fort Worth, Texas, our Fighting Falcon was delivered to the US Air Force on September 10, 1981, ending up starting with the 8th Tactical Fighter Wing, Taegu Air Base of the Republic of Korea in October of 1981. Here are her travels:
October 1982 – 17th Tactical Fighter Squadron, Shaw Air Base, Sumter, South Carolina
October 1985 – 56th Tactical Training Wing, McDill Air Force Base, Tampa, Florida
June 1989 – 89th Tactical Fighter Squadron, 906th Tactical Fighter Group, Wright-Patterson Air Force Base, Dayton, Ohio
February 1992 – 89th Fighter Squadron, 906th Tactical Fighter Group, Wright-Patterson Air Force Base, Dayton, Ohio
April 1994 – Placed in storage at the Aerospace Maintenance and Regeneration Center (AMARC), Davis-Montham AFB, Arizona on April 12, 1992
MAPS Air Museum received our Falcon from AMARC for preservation on April 14, 2015 on a generous indefinite loan from the National Museum of the US Air Force, Wright-Patterson Air Force Base, Ohio. Her renovations are complete, on display and maintained by Crew Chief Clay Tober.
Specifications/Performance (F-16C Block 50/52)
Multi-role fighter, air superiority fighter
Manufacturer: General Dynamics (now Lockheed Martin)
First flight: January 20, 1974
Introduction: August 17, 1978
Produced: 1973-2017, 2019-present
Status: Still in service
Built: 4,604
Unit Cost: (1998) F-16A/B $14.6 million F-16C/D $18.8 million
Length: 49 ft 5 in
Wingspan: 32 ft 8 in
Height: 16 ft
Empty weight: 18,900 lb
Max takeoff weight: 42,300 lb
Engine (Block 52): 1 x Pratt & Whtney F100-PW-229 afterburning turbofan, 17,800 lbf (w/afterburner 29,160 lbf)
Max speed: 921 mph (Mach 1.2 @ sea level); Mach 2.05 at altitude, clean
Combat range: 339 mi
Ferry range: 2,620 mi w/drop tanks
Service Ceiling: 59,055 ft+
Armament, notable
Guns: 1 x .787 in M61A1 Vulcan 6-barrel rotary cannon (511 rounds)
4 x LAU-61/LAU-68 rockets pods(each w/ 19/7 x Hydra 70mm/APKWS rockets
2 x AIM-7 Sparrow air-to-air missiles
6 x AIM-9 Sidewinder or 6 x AIM-120 AMRAAM or 6 x IRIS-T or 6 x Python-4 air-to-air missiles
6 x AGM-65 Maverick or 4 x AGM-88 HARM air-to-ground missiles
2 x AGM-84 Harpoon or 4 x AGM-119 Penguin anti-ship missiles
8 × CBU-87 Combined Effects Munition
8 × CBU-89 Gator mine
8 × CBU-97 Sensor Fuzed Weapon
4 × Mark 84 general-purpose bombs
8 × Mark 83 GP bombs
12 × Mark 82 GP bombs
8 × GBU-39 Small Diameter Bomb (SDB)
4 × GBU-10 Paveway II
4 × Joint Direct Attack Munition (JDAM) series
Wind Corrected Munitions Dispenser (WCMD)
B61 nuclear bomb
B83 nuclear bomb
Museum display notes: Although our aircraft on display is an F-16A, she is marked/painted as an F16D, S/N 89-2082, as assigned to the 112th Fighter Squadron, 180th Fighter Wing, Air National Guard, Ohio. This is in Honor of native Ohioan, Lt. Col. Kevin H. Sonnenberg, "Sonny".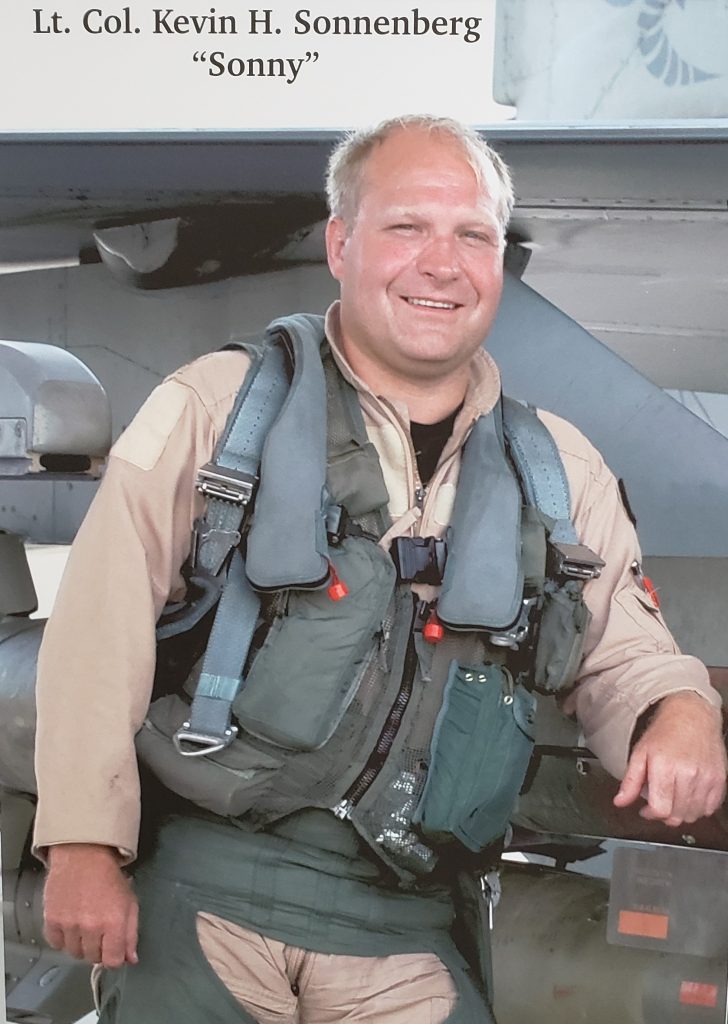 Designed to replace: US Air Force's Republic F-105 Thunderchief and McDonnell Douglas F-4 Phantom II as "lightweight" fighters to complement the heavier McDonnell Douglas F-15 "Eagle"
Being replaced by: Lockheed Martin F-35 "Lightening II"