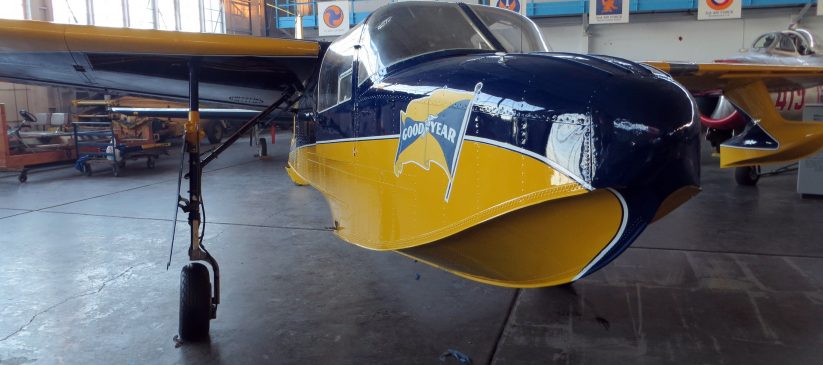 Aircraft History
The Drake was designed and built by engineers at Goodyear Aircraft in the late 1940s and was completed in March of 1953. Goodyear used the prototype Drake for company business and demonstrations at many airports around the country, though the Drake remained based in Akron, Ohio for its entire career.
The GA-22A was a four place, all metal aircraft, powered by a 225 hp Continental E-225-8 six cyl. engine, driving an all-metal Hartzell propeller. The center wing of the Drake was covered with Bondolite, a special structure developed by Goodyear for its amphibious airplanes. The Bondolite structure consisted of aluminum sheeting and a honeycomb core. Fully retractable landing gear and cross wind landing wheels were installed in the Drake, enabling the airplane to touch down on land or in the water.
After comparative flight tests of earlier Goodyear Duck models, the NACA planning hull was selected to be used on the GA-22A. This hull was characterized by a deep pointed step faired to the smooth afterbody. Goodyear also conducted tests with a wooden fairing fitted to the earlier Drake model GA-22 that simulated the faired step of the GA-22A. This modification improved the water stability characteristics in the GA-22A such that hands-off landings and take-offs were not difficult.
The Drake was designed to be a passenger amphibian, but it was capable of being used as a light cargo carrier by removing the rear seat and left front seat. The pilot and passengers of the GA-22A experienced excellent visibility and a hinged right windshield gave ready access to the anchor compartment and forward mooring cleats.
In 1966, Goodyear Aerospace Corporation donated the prototype GA-22A Drake to the EAA AirVenture Museum. 2010 It was returned to Akron, Ohio area where it is now under restoration at MAPS Air Museum.