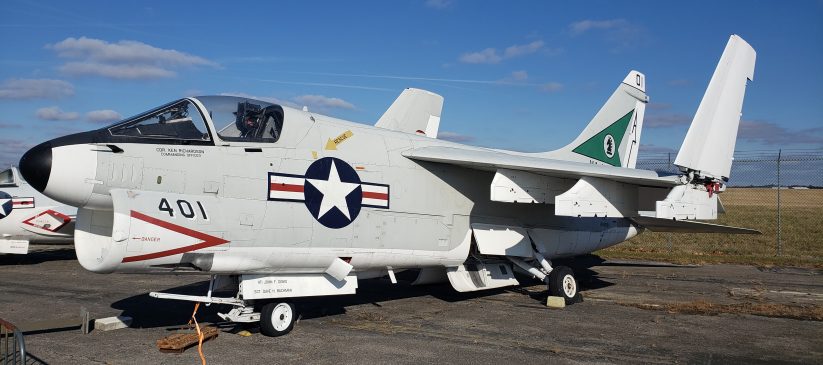 Our Aircraft's History:
Ling-Temco-Vought A-7E "Corsair II" (Bureau #159268; MSN #E406) ~ The Corsair II at MAPS Air Museum was manufactured as an A-7E-14-CV Corsair II, a carrier-capable subsonic light attack aircraft. Built at LTV Aviation in Dallas, Texas in March of 1974. Delivered to the US Navy on March 21, 1974.
First assigned to Attack Squadron (VA)-66 at Naval Air Station (NAS) Cevil Field, Florida, where the LTV aircraft was deployed aboard the USS Independence (CVA-62). She served on 4 different aircraft carriers and in different parts of the globe, such as the Mediterranean and the North Atlantic.
Notable stations:
April 1981 – Naval Air Rework Facility, Jacksonville, Florida
August 1982 – USS Eisenhower (Mediterranean)
June 1984 – USS Independence (Indian Ocean)
October 1984 – USS Nimitz (North Atlantic)
February 1985 – USS America (North Atlantic)
This Corsair finished up at VA-105, Cecil Field, Florida in the late 1980's before being dropped from inventory and moved to AMARC, Davis-Monthan Air Force Base, Arizona. Eventually delivered to the USS Intrepid in 1991. Located in the heart of New York City, the floating museum put the LTV on display and was also seen in the movie "National Treasure". The Corsair II was later delivered to MAPS Air Museum for display in November 2004. Our Corsair II is maintained by Crew Chief Kim Kovesci
Display Note: painted and marked as it was during its time with the Attack Squadron (VA) 1011/045 at NAS Cecil Field, Florida in 1988.
Specifications/Performance:
Crew: 1
Role: Ground Attack
Manufacturer: Ling-Temco-Vought
Produced: 1965-1984
Number Built: 1,569
First Flight: September 26, 1965
Introduction: February 1, 1967
Retired: June 1, 1993 (ANG)
Length: 46 ft 2 in
Wingspan: 38 ft 9 in
Width: 23 ft 9 in
Height: 15 ft 1 in
Empty weight: 19,127 lb
Max takeoff weight: 41,998 lb
Engines: 1 x Allison TF41-A-2 non-afterburning turbofan, 15,000 lbf
Cruise speed: 545 mph
Max speed: 690 mph (sea level)
Range: 700 mi (w/external fuel: 1,544 mi)
Service ceiling: 42, 000 ft
Unit cost: $2.86 million
Armament, notable:
Guns: 1 x M61A1 Vulcan 20 mm rotary cannon (1,030 rounds)
Rockets: 4 x LAU-10 rocket pods, each with 4 x 127 mm Zuni rockets
Missiles (combinations of):

2 x AIM-9 Sidewinder air-to-air missile
2 x AGM-45 Shrike anti-radiation missile
2 x AGM-62 Walleye TV-guided glide bomb
2 x AGM-65 Maverick air-to-ground missile
2 x AGM-88 HARM anti-radiation missile
2 x GBU-8 HOBOS electro-optically guided glide bomb

Bombs:

Up to 30 x 500 lb Mark 82 bombs or 80 series unguided bombs
Paveway series laser-guided bombs
Up to 4 x B28, B43, B57, B61 or B83 nuclear bombs
Designed to replace: Douglas A-4 "Skyhawk" & North American F-100D "Super Saber"
Designed from: Vought F-8 "Crusader"
Replaced by: General Dynamics F-16 "Fighting Falcon" & McDonnell Douglas F/A-18 "Hornet"