Our Aircraft's History
Piper PA-23-150 "Apache"/to possibly be displayed as an U-11A "Aztec" (S/N 23-894; C/S N2283P) ~ MAPS Air Museum has a PA-23-150 version and it is currently awaiting its turn for a heavier overhaul in the renovation hangar. No final decisions have been made, but one probable outcome is to alter the appearance of the PA-23-150 Apache to look like the US Navy's PA-23-250 Aztec. Our aircraft was built in 1957 by the Piper Company of New Haven, Pennsylvania.
Aviation Business Corporation, of St. Louis, Missouri, was the most recent owner of the Piper aircraft, N2283P, before MAPS acquired the Apache recently.
The designation for the Navy's Aztec was the U-11A (formerly the UO-1). There were only a small number of Piper Aztecs (20) bought in 1959 by the US Navy using the PA-23-250 design.
Specifications and Performance (PA-23-250F):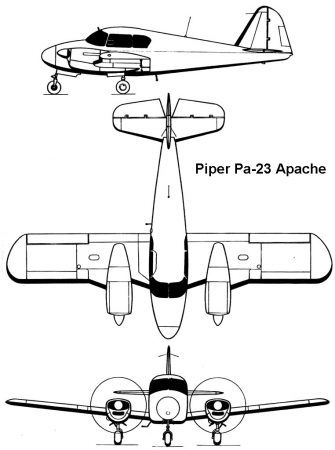 Military Role: Light Transport/Utility
Manufacturer: Piper Aircraft
First flight: March 2nd, 1952
Introduction: 1954
Produced: 1952-1981
Number built: 6,976
Crew: 1 (+5 passengers)
Length: 31 ft 2 3/4 in
Wingspan: 37 ft 2 1/2 in
Height: 10 ft 4 in
Empty Weight: 3,180 lb
Max Takeoff Weight: 5,200 lb
Engines: 2 x Lycoming IO-540-C4B5 normally aspirated air-cooled flat-6 piston engines, 250 hp each
Max Speed: 215 mph
Cruise Speed: 172 mph
Range: 1,519 mi
Service Ceiling: 18,950 ft
Armament: