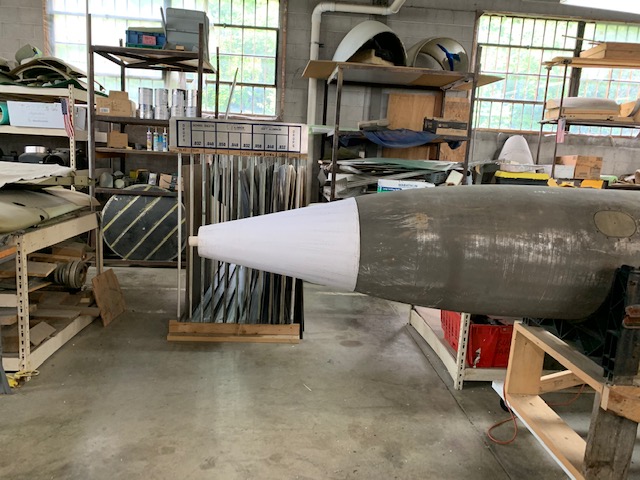 Renovation activity update ~ 7/7/2019
July 17, 2019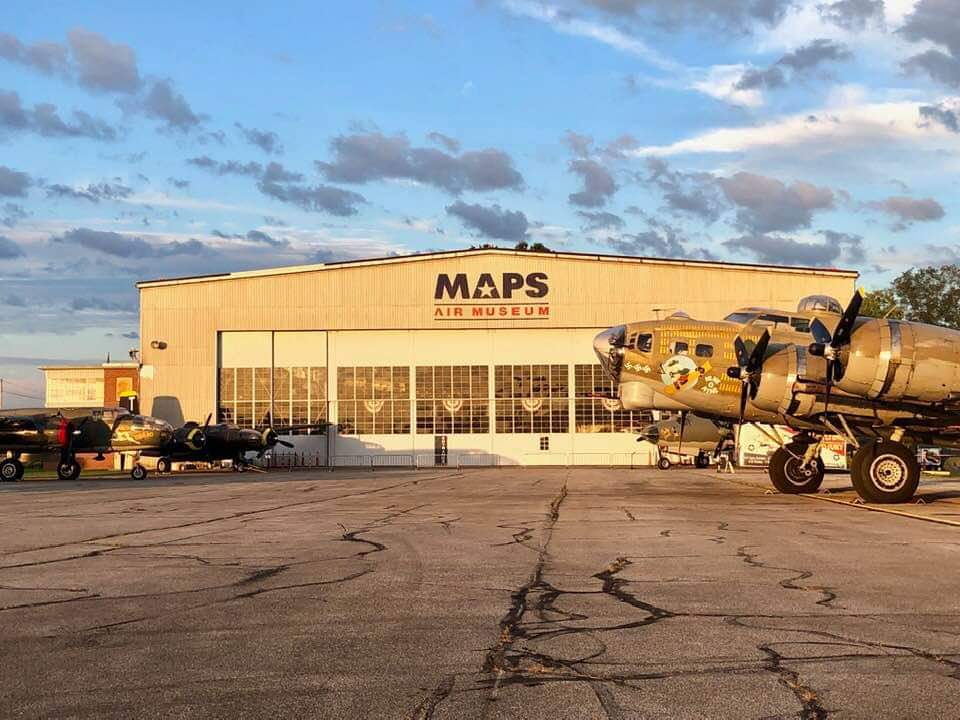 A Weekend in Pictures ~ Wings of Freedom Tour
August 11, 2019
From Ken Ramsay:
MAPS Air Museum participated in the 2019 NFL Hall of Fame Parade on Saturday (2 photos). There were over 200,000 people along the parade route. Good exposure for MAPS.
We had to order more Clecos as they were in high demand on the F-86 Sabre and FG-1 Corsair (2 photos).
Work progresses on the F-16. The bombs were finished and installed (photo). We found the bomb fuses in the shelves in the restoration building. Mark and Bob fabricated barrel ends for the Gatling gun and installed the gun cover panel (photo). And the painting is coming along. Major painting is finished, nose and touch-up are in the works (photo).
On Saturday we had the naming ceremony for the A-26 Invader. We named the plane Gary's Lady in honor of Gary Shapiro who passed away last year. After the grave-site ceremony the family came to maps for refreshments. At that time I revealed the name we had chosen for the plane. The photo below shows Gary's wife, his mother, his two daughters and granddaughter. A very touching moment.
Today we worked on the MK 13 torpedo for the B-26. The first 4 photos show the progress on the tail section. Ron and I cut out the cone shape and then a friend of Dennis rolled it into a cone. It was hard aluminum and our roller just wasn't strong enough. While I was on vacation, Ron and Dan riveted the cone together, installed it on the torpedo body and added body putty. Dan made the fins and installed them on the cone. Today he was working on the braces between the fins. We are working from drawings and photos from the internet.
I began working on the nose of the torpedo. Someone gave us a 3 inch thick piece of foam, a hot tub cover. Cut it into circles and glued them together like a layer cake (photo). Today I carved and sanded the layer cake into a nose end for the torpedo. Made quite a mess (photo). While I was giving a tour, Ron, bless his heart, cleaned up the mess. We then fitted the nose piece to the torpedo body (photo). I have the nose piece at home for final sanding and adding a strip of aluminum to the base so we can screw it to the torpedo body.
A former Super Sabre pilot sent us a painting that his mother did from a photo of 3 Super Sabres (photo). It will go into the Super Sabre Museum along with some others.