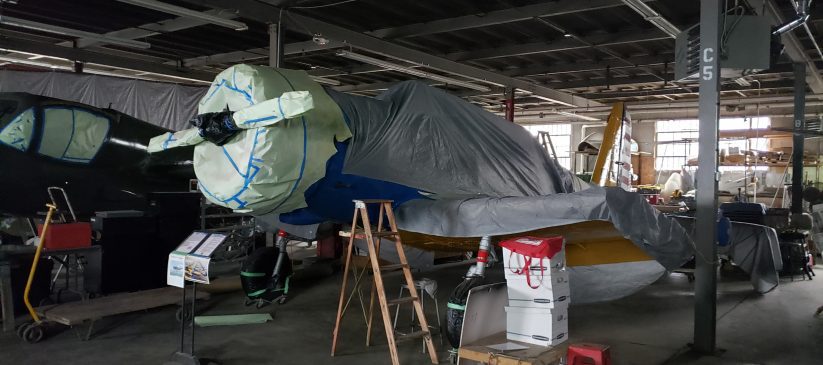 Our Aircraft's History
Vultee BT-13A "Valiant" (Model- 54) (S/N 41-21271; MSN 74-5109; C/S N64852) ~ Nicknamed by many of her pilots as the "Vultee Vibrator", she was later re-designated the T-13A in 1948. Modern S/N is now 5110. After pilots initial training in a "primary" aircraft, such as the BT-13, BT-17 or BT-19, pilots then went to their basic aircraft, like the Vultee BT-13, then subsequently to their advanced aircraft.
Our BT-13A was built by the Vultee Aircraft Company (which become Convair in 1943) in Downey, California on March 19, 1942 and was accepted by the US Army Air Corps on March 25, 1942. Her first assignment was with the San Angelo Air Corps Basic Flying Training School (BFTS), Air Training Command (ATC) at San Angelo Army Air Field, Texas. Below are her others stations:
June 1944 – 2533rd Army Air Force (AAF) Base Unit, BFTS, ATC, Goodfellow Field (formerly San Angelo Army Air Field), San Angelo, Texas
September 1944 – 2525th AAF Base Unit, (BFTS), ATC, Liberal Army Air Field, Liberal, Kansas
May 1945 – Dropped from active inventory; disposed of as surplus
July 1946 – Purchased by Plains Flying Services, Amarillo, Texas
January 1955 – Sold to Plains Aero Services, Amarillo Texas; converted for use as an aerial spray platform
June 1966 – Sold to Air Pest Patrol, Inc., Henderson Kentucky
May 1970 – Sold to Mid-Continent Aircraft Corporation, Hayti, Missouri
October 1970 – Sold to private owner in Lyons, Kansas
July 2002 – Acquired b the Military Aircraft Restoration Corporation (MARC); placed on loan to the Historical Aircraft Squadron, Fairfield County Airport, Lancaster, Ohio
Her time eventually came to the MAPS Air Museum for restoration on January 28, 2012 from MARC. Our Vultee is in her final stages of restoration (see photos below) and will be coming out for display in 2020. She is maintained by Crew Chief John Harris.
Specifications/Performance
Role: Trainer
Manufacturer: Vultee Aircraft
First flight: March 24, 1939
Introduction: June 1, 1940
Produced: 1939-1944
Built: 11,537 (all variants)
Retired: August 5, 1945
Crew: 2
Length: 28 ft 10 in
Wingspan: 42 ft
Height: 11 ft 6 in
Empty weight: 3,375 lb
Gross weight: 4,496 lb
Engine: 1 x Pratt & Whitney R-985-AN-1 nine-cylinder air-cooled radial engine, 450 hp
Max speed: 180 mph
Cruise speed: 130 mph
Range: 725 mi
Service ceiling: 21,650 ft
Armament, notable
Museum display notes: soon to be displayed with updated photos here, including information on her paintings/markings
Designed to replace: Initial Army Air Corp solicitation in 1937 for a "Basic" trainer, to go between the "Primary" and "Advanced" training stages
Replaced by: North American T-6 Texan (AT-6 during Army Air Corp WWII days; SNJ by the US Navy)