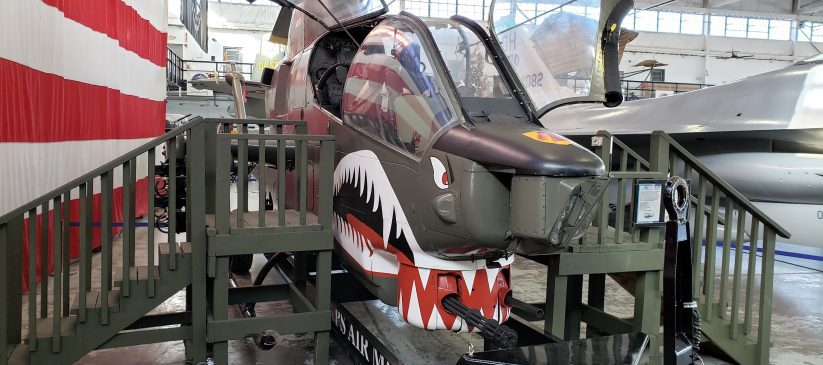 Our Aircraft's History
AH-1S-BF Cobra (S/N 70-16084; MSN #20028) ~ was originally built as an AH-1G in 197o and delivered to the US Army in November 1972 from Fort Worth, Texas as part of the Troop C, 7th Squadron, 17th Cavalry, 6th Air Cavalry Combat Brigade, 1st Cavalry Division, Fort Hood, Texas. Converted to an AH-1Q in February of 1976 and then to an AH-1S in March of 1978.
The final location of this Cobra was in July 1988 with Troop Q, 4th Squadron, 107th Armored Cavalry Squadron, Ohio Air National Guard in North Canton, Ohio.
The AH-1 on display at MAPS is painted and marked as it was with its final location in the Ohio Nation Guard here in North Canton, Ohio. On loan from the US Army, the Cobra was relocated to MAPS Air Museum for static display in May of 1994 where it is maintained by Crew Chief, Jim Boyea.
Come to see inside the gunnery position at MAPS Air Museum!
Specifications & Performance (AH-1G):
Crew: 2 (1 pilot, 1 co-pilot/gunner)

Role: Attack helicopter

Nation of Origin: United States

Manufacturer: Bell Helicopter

First Flight: September 7, 1965

Entered Service: 1967

Retired in the United States: 2001 (US Army); In service in other countries

Produced: 1967-2019

Number Built: 1,116

Unit Cost: $11.3 million (1995 U.S.)

Engine: 1x Lycoming T53-L-13 turboshaft, 1,100 shp

Rotor diameter: 44′
Length: 53′
Height: 13′ 6″
Weight: Empty/Max – 6,600 lb/10,000 lb
Cruise Speed: 165 mph
Max Speed: 171 mph
Range: 357 mi
Service Ceiling: 11,400 ft
Armament, notable (AH-1G):
2 x 7.62 Miniguns or 2 x M129 40mm grenade launchers or one of each, in the M28 turret

2.75 70mm rockets
M18 7.62mm Minigun pod or XM35 armament subsystem with XM195 20mm cannon
Designed to replace: Lockheed AH-56 "Cheyenne"
Replaced by: Boeing AH-64 "Apache"