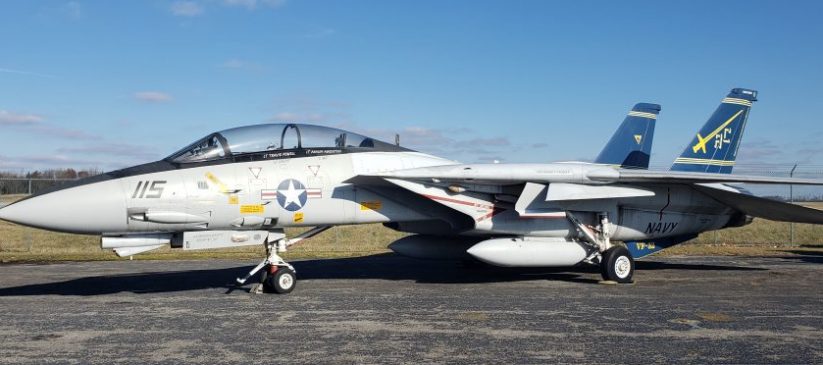 Our Aircraft's History
Grumman F-14B "Tomcat" (Bureau # 162694; MSN #540) ~ The Tomcat hanging out at MAPS Air Museum was created by Grumman Aviation Corporation in Bethpage, New York in January of 1986 as an F-14A-140-GR and delivered to the US Navy on July 1, 1986.
First being with the Fighter Squadron (VF) – 32, Naval Air Station (NAS), Oceana, Virginia. This F-14 served on multiple deployments, including the:
U.S.S. John F. Kennedy (August 1986-February 1989 & August 1990-March 1991/Operation Desert Shield & Desert Storm, and October 1992-April 1993)
U.S.S. Dwight D. Eisenhower (May 1994-September 1994 Operation Restore Democracy).
After spending a year being upgraded to a F-14B (1995), the Tomcat deployed again on the:
U.S.S. Enterprise (June 1996-December 1996 Operation Joint Endeavor and Southern Watch)
U.S.S. George Washington (October 1997-April 1998 Operation Southern Watch)
U.S.S. Harry S. Truman (December 2002-May 2003 Operations Noble Eagle, Northern Watch and Iraqi Freedom and again December 2004-April 2005 Operation Iraqi Freedom)
In October of 2005, she was removed from the Navy Aircraft Inventory and flown to MAPS Air Museum, where it was decommissioned on October 5th, 2005.
MAPS Air Museum display notes: Paintings and markings are of its time with the VF-32 as an F-14A between 1986-1994 and is maintained by Crew Chief Carl Bergsneider.
Specifications/Performance (F-14D)
Role: Interceptor/air superiority/multirole fighter
Manufacturer: Grumman Aerospace Corporation
First Flight: December 21, 1970
Introduction: September 22, 1974
Retired: September 22, 2006 (US Navy)
Produced: 1969-1991
Number built: 712
Unit Cost: US $19.2 million in 1977
Crew: 2 (Pilot & Radar Intercept Officer)
Length: 62 ft 9 in
Wingspan: 64 ft (fully extended)
Height: 16 ft
Empty Weight: 43,735 lb
Max weight: 74,350 lb
Engines: 2 x General Electric F110-GE-400 afterburning turbofan, 16,610 lbf each (28,200 lbf with afterburner)
Max speed: 1,544 mph (Mach 2.34)
Combat Range: 580 mi (Ferry range: 1,800 mi)
Service Ceiling: 50,000 ft
Armament, notable
Guns: 1 x 20 mm M61A1 Vulcan 6-barreled Gatling cannon (675 rounds)
Rockets: 7 x LAU-10 rocket pods (for 28 rockets)
Missiles, combinations of: AIM-54 Phoenix, AIM-7 Sparrow & AIM-9 Sidewinder
Bombs: JDAM precision-guided munition or Paveway series of laser-guided bombs or Mk 80 series of unguided iron bombs or Mk 20 Rockeye II
Designed to replace: McDonnell Douglas F-4 "Phantom II"
Intended Successor aircraft: McDonnell Douglas/Boeing F/A-18 "Super Hornet"