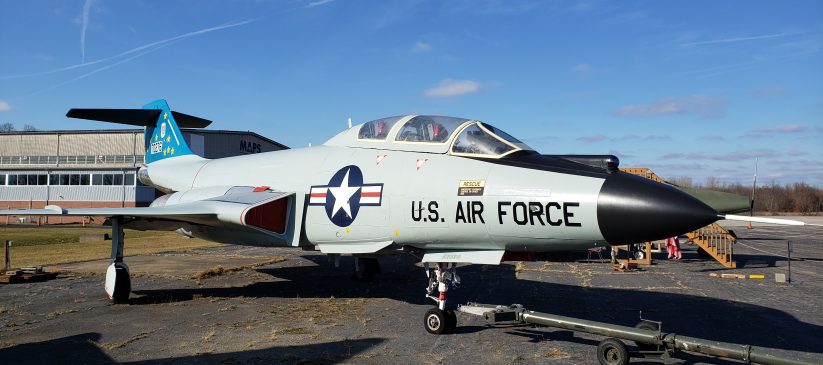 Our Aircraft's History
McDonnell F-101F-91-MC "Voodoo" (S/N 57-0342; MSN #520) ~ This sleek Voodoo was manufactured by McDonnell Aircraft in St. Louis, Missouri in August of 1959 as a F-101B-90-MC and delivered to the US Air Force on August 20th, 1959. First being with the 52nd Consolidated Maintenance Squadron, Air Defense Command, Suffolk Air Force Base, New York.
From January 1960, the F-101B spent time with the 444th Fighter-Interceptor Squadron, ADC, Charleston AFB in South Carolina before being transferred to Hamilton AFB in California. There, in February 1961, the Voodoo received an upgrade to the F-101F that it is today.
This aircraft hoped around for the next two decades, ending in the 111th Fighter-Interceptor Group, Texas Air National Guard, Naval Air Station, Ellington, Texas in April 1978.
After being in storage/museum status for 16 years, she was transferred to the Florida Military Aviation Museum of St. Petersburg, Florida in June of 1998. This museum became defunct and with military approval, was recovered and transferred to the MAPS Air Museum in November 2004, where it is maintained by Crew Chief Kent Kleinknecht.
MAPS Air Museum display note: Our F-101F was recently (November 2019) freshly re-painted and marked as a F-101B (S/N 57-0276) to pay homage to the 87th Fighter-Interceptor Squadron (ADC) stationed at Lockborne AFB from 1960-68, which is now Rickenbacher Air National Guard Base, Ohio.
Specifications/Performance (F-101B)
Role: Fighter/Interceptor
Manufacturer: McDonnell Aircraft
First flight: September 29, 1954
Introduction: May 1957
Retired from the US Military: 1982 (US ANG)
Number built: 807
Unit cost: US $1,754,066
Crew: 2
Length: 67 ft 5 in
Wingspan: 39 ft 8 in
Height: 18 ft
Empty Weight: 28,495 lbs
Max takeoff weight: 52,400 lbs
Engines: 2 x Pratt & Whitney J57-P-55 afterburning turbojets, 11,990 lbf thrust each dry, 16,900 lbf with afterburner
Max speed 1,134 mph (Mach 1.72)
Range: 1,520 mi
Service ceiling: 58,400 ft
Armament, notable
4 (originally 6) x AIM-4 Falcon rockets, or
2 x AIR-2 Genie nuclear rockets, plus 2 x AIM-4 Falcon rockets
Designed to replace: North American P-51 "Mustang"
Designed from: XF-88 "VooDoo" program
Intended successor aircraft: F-4 "Phantom II"