MAPS Air Museum is proud to have the recently finished banquet hall on the 2nd floor of the hangar with services provided by the Preferred Caterer of MAPS Air Museum, Mr. Mike's Catering. Outside caterer's are allowed with pre-approval and a nominal service fee.
Your food is prepared on-site in our newly finished, full-sized commercial kitchen.
A sit-down or buffet style is available with prices starting at $15.50 per person.
Below is a sample buffet menu:
Meat (choice of two)
Baked Chicken ~ legs, thighs & split-breast; no wings or backs; all split-breast is $1.00 extra
Beef Au Jus or Beef in Light Gravy
Baked Sliced Ham
Sliced Turkey Breast with Dressing & Gravy ~ $1.50 extra
Beef Tips in Gravy over Buttered Noodles
Italian Sausage & Peppers
Cabbage Rolls
Boneless Stuffed Pork Chop ~$1.50 extra
Potato/Rice (choice of one)
Au Gratin
Scalloped Potatoes
Buttered Parsley
Redskin Potato with Butter ~ Garlic optional
Baked with Sour Cream & Butter
Rice Pilaf
Vegetable (choice of one)
Green Bean Almondine
Buttered Corn
Broccoli & Cauliflower ~w/cheese optional
Mixed Vegetables ~ other vegetable options available
Pasta (choice of one)
Springs, Penne or Mostaccioli ~ Mr. Mike's special meat sauce or marinara sauce (meatless)
Pasta Alfredo w/cheese sauce
Salad Bar
Salad Bar ~ Fresh crisp tossed lettuce, tomatoes, and cucumbers ~ served with 3 kinds of dressings (Italian, French & Ranch), bacon bits & croutons
Rolls & Butter
Coffee
Note: Mr. Mike's Catering will adjust to your needs and/or selections; prices may vary
Quoted price is before sales tax ~ no gratuity added in/added in at discretion of leasee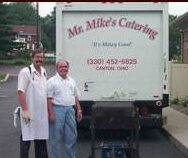 Personal meeting with Mr. Mike's is requested
Home Office ~ 2800 Fulton Drive NW, Canton, Ohio ~ 330~452-6825