Lunch Room gets a makeover
February 23, 2018
Results of Akron Beacon Journal, "Beacon's Best 2017" 
April 4, 2018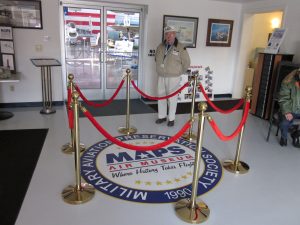 It is with a heavy heart and great sadness that MAPS member and WWII veteran Ralph Lynn has passed away today March 16, 2018. Ralph was born on October 26, 1919 and was 98 years old. He joined MAPS in June of 2007. He was very active past his 95th birthday until declining health caused him to move to Laurens, South Carolina to live with his daughter. Services are pending and we will notify everyone when they have been scheduled. May Ralph rest in the peace of the Lord.
"Up, up the long delirious burning blue
I've topped the wind-swept heights with easy grace,
where never lark, or even eagle, flew;
and, while with silent, lifting mind I've trod
the high untrespassed sanctity of space,
Ralph has put out his hand and touched the face of God."
From the sonnet High Flight by John Gillespie Magee, Jr.
Ralph recited this at many events while an active member of MAPS.
Anyone wishing to send Ralph's daughter Cheryl a condolence card send us a note and I will forward her address to you.
Bob Schwartz