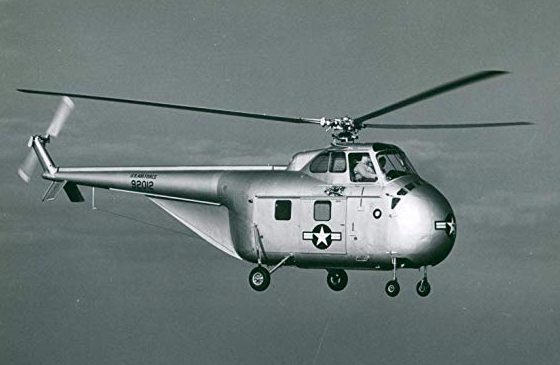 Our Aircraft's History
Sikorsky H-19D-2-SI Chickasaw (S/N 54-1412; MSN #55806) ~ MAPS Air Museum's own Chickasaw was built in Stratford, Connecticut and was initially delivered on November 1, 1954 for the US Army Aviation. First assignment, the 123rd Medical Company, Fort Bragg, North Carolina. During its civilian life, designated N4945 from 1971-77, spent periods of time with the Kent State University and the Walter Soplata Collection of Newbury, OH. MAPS obtained the aircraft in May of 2018.
Currently, this helicopter is in serious disrepair and is being brought back to life by Crew Chief Jerry Patton and the students from the Portage Lakes Career Center (PLCC) in the renovation hangar. Though it will be some time before it is back for public display, know that it will see the day of light again!
Below are a few photos of various parts in various stages of repair:
Specifications/Performance:
Crew: 2 (capacity: 10 troops or 8 stretchers)

Role: Utility Helicopter

Nation of Origin: United States

Manufacturer: Sikorsky

First Flight: November 10, 1949

Entered Service: April 16, 1950 (U.S. Air Force)

Produced: 1949-1961

Retired in the United States: February 26, 1969 (U.S. Navy)

Number Built: 1,728

Unit Cost:

Engine: 1 x Pratt & Whitney R-1340-57-9 cylinder air-cooled radial piston engine, 600 hp

Rotor diameter: 53 ft

Length: 42 ft 2 in fuselage length excluding tail and main rotors

Height: 13 ft 4 in

Weight: Empty/4,795 lb; Max weight: 7,500 lb

Cruise Speed: 85 mph

Max Speed: 101 mph

Range: 450 mi

Service Ceiling: 10,500 ft
Armament, notable:
Designed to replace: the Army's first true troop transportation helicopter
Replaced by: Sikorsky H-34 "Choctaw"