Renovation Activities ~ 2/19/20
February 19, 2020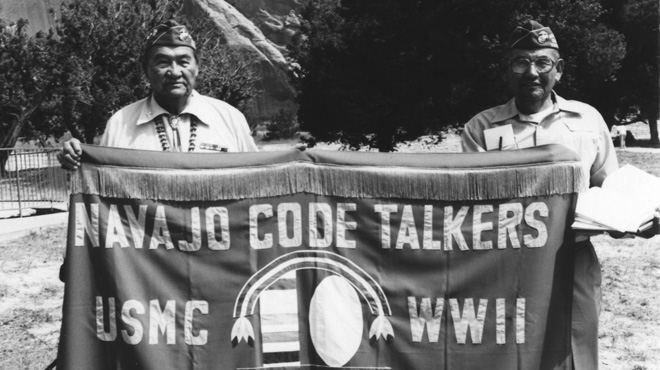 Navajo Code Talkers
February 23, 2020
From Ken Ramsay:
Ron and I continued working on the AN-M57s for the B-26. Ron (welding Ron) welded the mount brackets for us, we installed one set and made a trial fit in the bomb bay. The trial revealed that a minor adjustment was needed which was done and the next trial resulted in an excellent fit (2 photos). We raised a few eyebrows from visitors as the trial bomb was carried through the hanger (photo). Then the stripes were added (photo) and marking applied (photo). Lot numbers will be added on Wednesday.
We then moved to the F-100 and added the lettering to the fuselage and wings (2 photos). Also reattached the nose wheel steering cables.
The OV-1's wings are being painted (photo). The color looks very Army.
Dave has started to make the Corsair's horizontal tail's covering (photo). This is going to me an interesting metal shaping project.
The tail of the H-19 helicopter is looking great (2 photos). The students are doing an excellent job.
And finally, a colorful paint job (above).